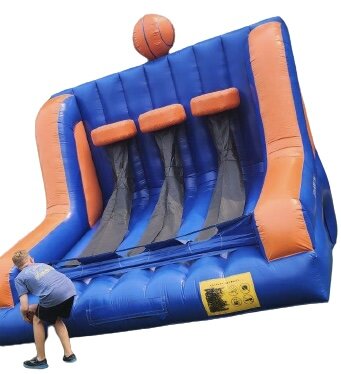 Tripple Threat Shoot Out
Introducing the Tripple Threat Basketball Shoot Out rental, the ultimate inflatable game that brings the excitement of the NBA right to your event!
Get ready to showcase your skills and compete like a pro with this thrilling basketball shootout challenge. Designed with attention to detail, this inflatable game features a vibrant NBA-themed backdrop that will transport you to the center court of your favorite basketball arena.
The Tripple Threat Basketball Shoot Out is perfect for all ages and skill levels. Whether you're a seasoned player or just looking to have some fun, this game will keep you entertained for hours. Challenge your friends, family, or colleagues to see who can score the most baskets and claim the title of the ultimate shooter.
Constructed with safety in mind, this inflatable game is made from high-quality materials that ensure durability and stability. It is easy to set up and can be installed both indoors and outdoors, making it suitable for a variety of events, including birthday parties, corporate gatherings, school carnivals, and community festivals.
Renting the Tripple Threat Basketball Shoot Out will not only provide endless entertainment but also create lasting memories for your guests. It is a fantastic addition to any event, adding a touch of excitement and friendly competition that everyone can enjoy.
Don't miss out on the opportunity to bring the NBA experience to your next event. Contact us now to book the Tripple Threat Basketball Shoot Out rental and get ready to shoot, score, and have a blast!