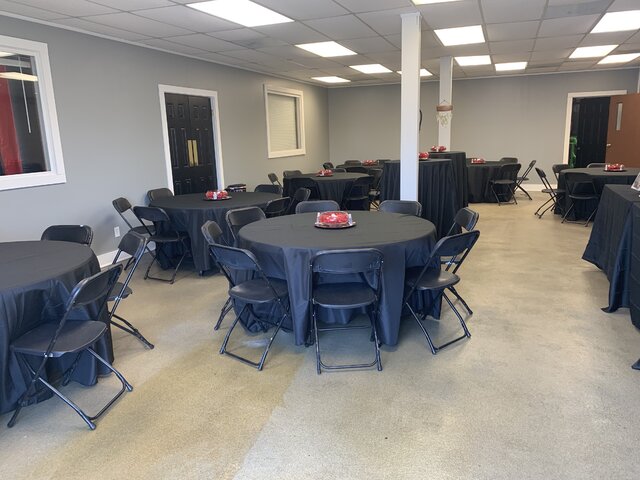 Evening Event 4-8pm
Now you can rent a space for your next event in our warehouse event room. We provide tables and chairs for you. You can buy your own tablecloths or buy or rent from us as an add-on. There are two bathrooms in the space as well as a kitchenette with a refrigerator, tables, and food warmer. This time slot is the time you have in total, from door open to clean up and leave time. We recommend event time 5-7 pm for this time slot. That gives you one hour to set up, two hours of event time, then one hour of clean up. Time slots are precise and will forfeit the cleaning fee if left past the event time paid for.
We require a $150 Cash Cleaning deposit upon arrival, once the event is complete we will hand it back, if there are no issues, if there is a discrepancy, we may hold for up to 5 days to find a resolution, repair, or clean the space after the event. If event space is not cleaned entirely as found, the entire deposit may be forfeited, upon management discretion. We ask you to respect our space so we can continue to offer this service as well as receive your deposit back in full.
FOOD/DRINK
We do not provide food or drinks.
No alcohol is allowed on-premises.
We can recommend third-party catering options.
ALL food must be removed at the end of event time to clean the space completely.
Cleaning Expectations/ Rules:
Wipe/Clean Tables and chairs after use
Takedown and stack tables and chairs against warehouse wall through double doors (attendant will show at arrival)
Remove any and all decorations (NO TAPE or PINS in walls) (We allow scotch tape on glass windows or doors only.)
Must contain party to designated area. Please do not move barricades for safety reasons inside the warehouse.